Batik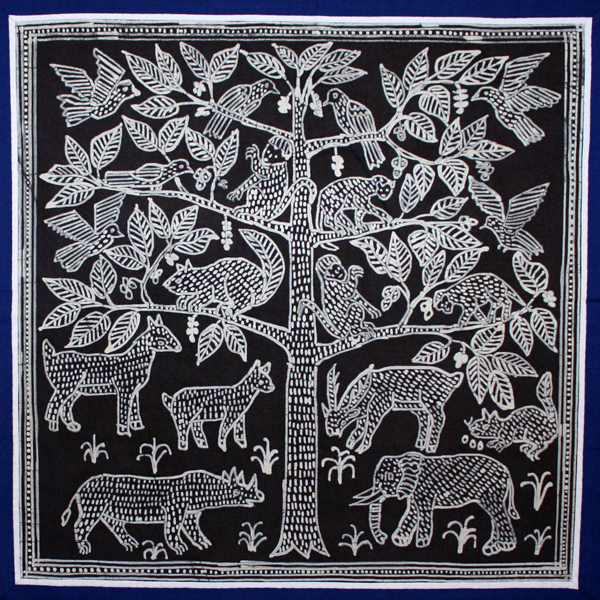 B11: This is a batik work portraying animals around a tree. Each animal is traced with a pattern tracer tool dipped in hot wax to create the outlines and fill in the spaces with dotted lines. This batik was then sewn onto a blue piece of cloth as a border. It is unusual to see such pieces of tapestry depicting animals in batik instead of embroidery.
By Sy Vang, 1990, 40x42 cm
Photo by Noah Vang, item at the Hmong Archives

Back to Top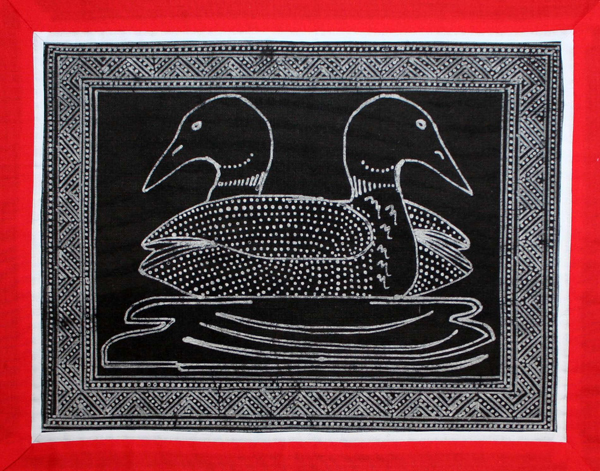 B12: The animals depicted on this tapestry are loons, which are found in North America, but not in Southeast Asia. Loons are also the state bird of Minnesota. The reason why loons were used is possibly because of the Hmong resettlement in Minnesota, and because local customers
wanted artwork connected to Minnesota. The first Hmong family arrived in Minnesota in
February 1976. By 2010, the Hmong population had increased to 66,000, with 29,000 living in Saint Paul, the heart of the Hmong community. The Hmong used their batik knowledge and skills to create this imagery commissioned by Corrine Pearson of Hmong Handwork on Grand Avenue in Saint Paul. Batik is a wax resistant technique traditionally used by the Green Hmong community for skirts and baby carriers.
By Yong Sa Vang, 1992, 25x31 cm
Photo by Noah Vang, item at the Hmong Archives
Back to Top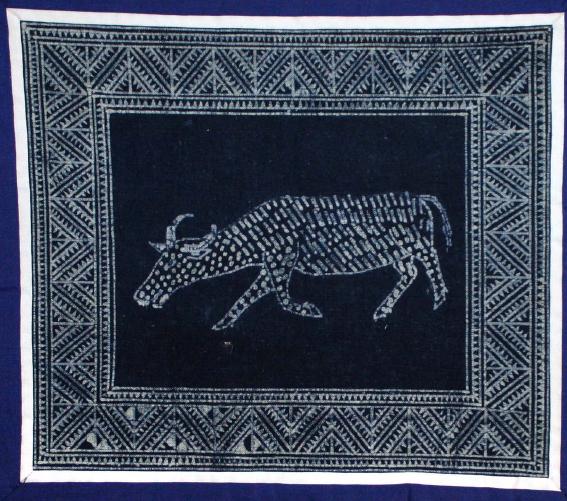 B13: This piece was created using batik techniques. The animal appears to be a water buffalo, a strong and powerful animal used to plow the fields and paddies and utilized for sacrifices at funerals and other occasions. Buffalos are also used for competitive fights at traditional Hmong New Years. The frame of this piece was created using a batik technique as well, and decorated with mountain motifs.
By an unknown artist, 1980s, 26x23 cm
Photo by Noah Vang, item at the Hmong Archives

Back to Top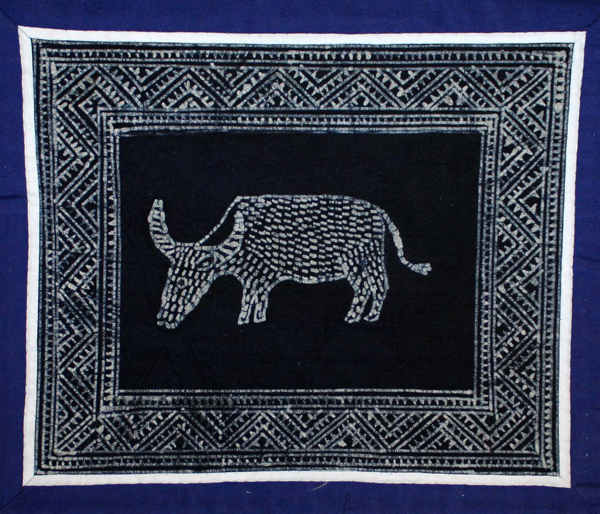 B14: A water buffalo is depicted on this batik tapestry. Water buffaloes are important in Hmong society for rice farming, and especially for plowing rice paddies which many Hmong acquired after resettling from the mountains in Laos after 1975. They are also used for sacrificial
ceremonies, especially for funerals where one or two buffaloes or oxen are sacrificed to
accompany the deceased to the afterlife. Buffalo are a totem among groups of Hmong (Miao) in China. The Hmong (Miao) women in Guizhou Province, China, wear headdresses of wooden horns and hair or black yarn, and silver crowns with silver horns.
By an unknown artist, 1980s, 23x28 cm
Photo by Noah Vang, item at the Hmong Archives
Back to Top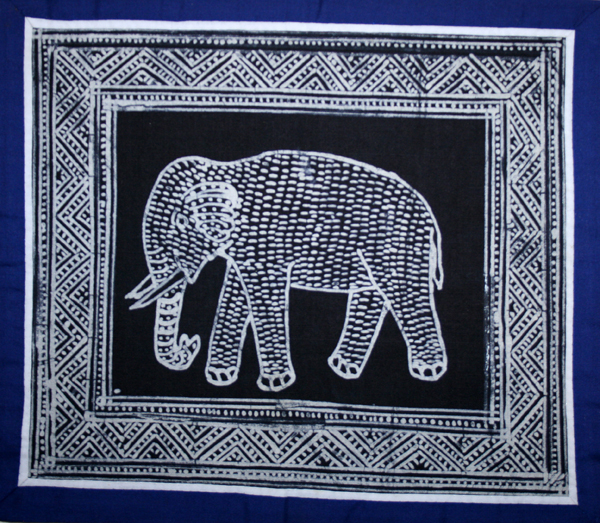 B15: This batik work shows an Asian elephant. The type of elephant is clear from the small size of its ears. Such an animal is highly valued in Laos. Elephants were formerly an important symbol for the country of Laos, known as the land of a million elephants. Due to their strength, elephants have been used to pull logs, and to carry and transport heavy things. They were once used in war.

By an unknown artist, 1980s-1990s, 28x23 cm
Photo by Xai Lor, item at the Hmong Archives
Back to Top
Page 1 << Page 2