Embroidery: Stories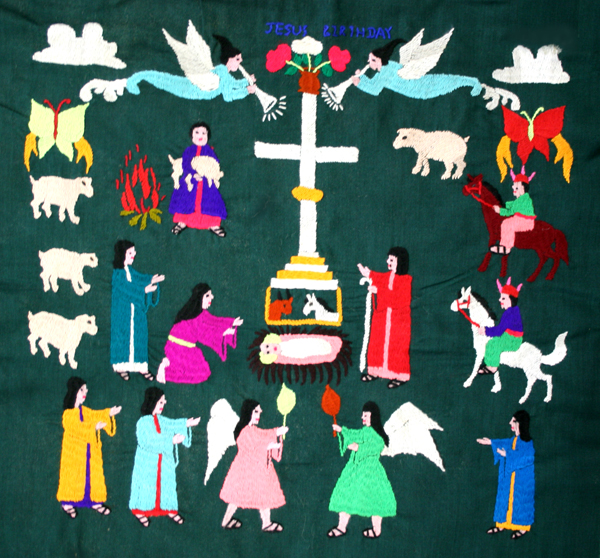 ES11: This piece is a tapestry depicting the birth of Jesus Christ with the baby Jesus, Mary, Joseph, angels, and the wise men. About a third of the Hmong in the United States are Christians. Many of the early Hmong refugees were sponsored by Catholic Charities, Lutheran Social Services, and other church groups, so some families converted to Christianity as they began to build their new lives. Others had converted to Christianity prior to leaving Southeast Asia. They learned the story of Jesus, and sewed Christian scenes similar to the story cloths that shared village life and the war experience. Christian paj ntaub were made to be sold to tourists, Westerners, and Hmong Christians. They were also made by Hmong refugees to become gifts to the churches and sponsors who helped them. Hmong women used their embroidery skills to express their thanks when the language barrier for early Hmong immigrants made words difficult.
By an unknown artist, 1980s-1990s, 30x32 cm
Photo by Xai S. Lor, item at Hmong Cultural Center
Back to Top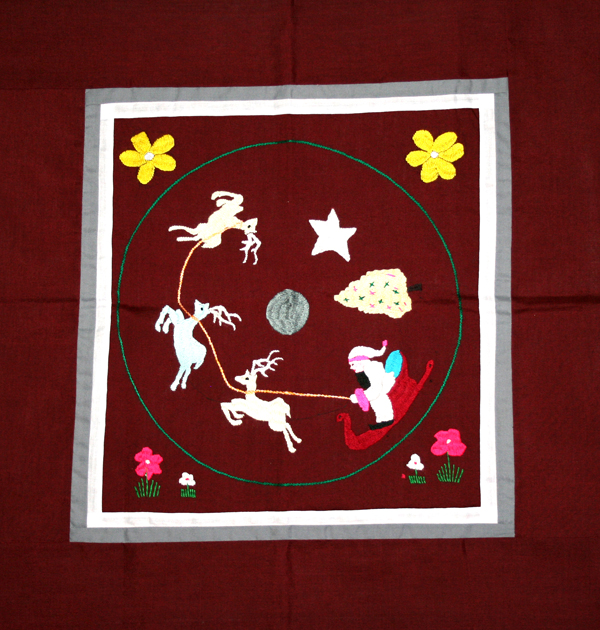 ES12: This tapestry is rather unusual, and incorporates Western Christmas scenes. A boy,
possibly Santa Claus, is riding in a sleigh pulled by three white reindeer. Christmas is a new holiday tradition adopted by some Hmong Americans. This paj ntaub most likely was created as a commercial work for a non-Hmong customer. Several sewing techniques were used, including outline, darning, and straight stitches. They were sewn on the surface of the cloth.
By Mee Lee, 2011, 45x43 cm
Photo by Xai S. Lor, item at Hmong Archives
Back to Top
Page 1 << Page 2